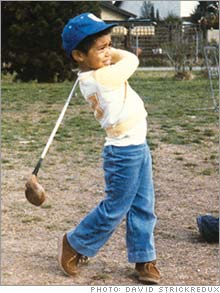 The best people in any field are those who devote the most hours to what the researchers call "deliberate practice."
It's activity that's explicitly intended to improve performance, that reaches for objectives just beyond one's level of competence, provides feedback on results and involves high levels of repetition.
For example: Simply hitting a bucket of balls is not deliberate practice, which is why most golfers don't get better. Hitting an eight-iron 300 times with a goal of leaving the ball within 20 feet of the pin 80% of the time, continually observing results and making appropriate adjustments, and doing that for hours every day - that's deliberate practice.
Tiger Woods is a textbook example of what the research shows. Because his father introduced him to golf at an extremely early age - 18 months - and encouraged him to practice intensively, Woods had amassed at least 15 years of practice by the time he became the youngest-ever winner of the U.S. Amateur Championship, at age 18. Also in line with the findings, he has never stopped trying to improve, devoting many hours a day to conditioning and practice, even remaking his swing twice because that's what it took to get even better.
The result? Here is the video of Tiger Woods's dramatic chip-in for birdie on the 16th hole in the final round of the recent Memorial Tournament. Woods went on to win by two shots and tie Jack Nicklaus with 73 career PGA Tour victories.